Location Map
---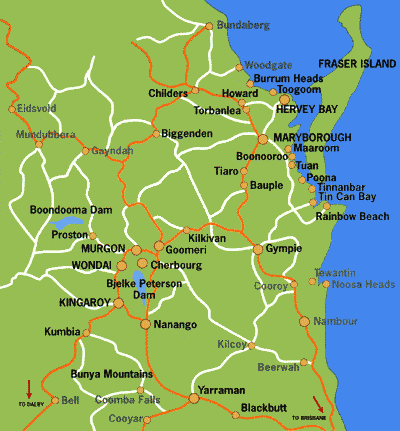 The South Burnett region of Queensland is located approximately 2 to 3
hours drive north-west of Brisbane, Australia. It covers the area from
the Blackbutt Range through to the borders of Kilkivan Shire.
The principal towns of the South Burnett are:

There are also smaller villages at Cooyar, Maidenwell, Dandabah
(in the Bunya Mountains), Kumbia, Memerambi, Wooroolin,
Proston and Hivesville.

The South Burnett can be reached from:

Brisbane either via Ipswich (via the Brisbane Valley Highway
through Esk) or Caboolture (via the D'Aguilar Highway)
Toowoomba via the New England Highway (which terminates
at Yarraman)
Dalby via the Bunya Highway
Gympie via the Wide Bay Highway, or
Gayndah via the Burnett Highway
Above: The South Burnett is
Queensland's largest wine
producing area. It's also
home to Australia's peanut
and navy bean industries.